Healthy Whole Wheat Wrap with Hummus, Spinach and Roasted Red Peppers
It's all about the hummus: A Tasty and Healthy Wrap
Looking for a healthy and delicious meal option that's easy to make and perfect for on-the-go? Look no further than a healthy whole wheat wrap! Packed full of nutrients, fiber, and flavor, this wrap is both satisfying and good for you. With ingredients like homemade hummus, fresh spinach, and roasted red peppers, it's a perfect lunch or snack option that will keep you energized and satisfied for hours.
The Nutritional Benefits of Whole Wheat
Whole wheat is an incredibly nutrient-dense food that is rich in fiber, vitamins, and minerals. Compared to processed white flour, whole wheat flour contains more key nutrients like iron, B vitamins, and zinc. Fiber is also a key component of whole wheat, which helps to promote healthy digestion, lower cholesterol levels, and prevent chronic diseases like heart disease and type-2 diabetes.
To make the wrap, you'll need:
2 Whole wheat tortillas
1 cup of Spinach leaves
1 Red bell pepper
1 tablespoon of Olive oil
1 can of Chickpeas
2 Garlic cloves
2 tablespoons of Tahini
Juice of 1 Lemon
Salt and pepper to taste
How to Make Delicious Homemade Hummus
Hummus is a delicious and nutrient-packed spread that is easy to make at home. Simply combine chickpeas, garlic, tahini, lemon juice, and a bit of salt and pepper in a food processor or blender and blend until smooth. Hummus is a great source of protein, fiber, and healthy fats, which can help to keep you full and satisfied for hours.
The Health Benefits of Spinach: A Superfood
Spinach is known as a superfood for a reason – it's packed full of vitamins, minerals, and antioxidants that can help to prevent chronic diseases and promote overall health. Spinach is particularly high in vitamin K, which is important for bone health, and vitamin A, which can help to protect your eyes from damage. It's also rich in iron, which can help to reduce the risk of anemia and keep you energized throughout the day.
The Sweet and Savory Flavor of Roasted Red Peppers
Roasted red peppers are a flavorful and nutritious addition to any dish. They're rich in vitamin C, which can help to boost your immune system and prevent damage from free radicals. Roasting red peppers also brings out their natural sweetness, which pairs perfectly with other savory flavors in the wrap.
Assembling the Wrap: A Step-by-Step Guide
To assemble the wrap, start by heating your tortilla in a dry pan or on a griddle for 1-2 minutes until warm and slightly crispy. Spread a generous amount of homemade hummus on the tortilla, leaving a bit of space around the edges. Next, layer on a handful of fresh spinach leaves and a few slices of roasted red pepper. Roll the tortilla tightly into a wrap, tucking in the ends as you go. Repeat with the second tortilla.
Tips for Packing a Grab-and-Go Lunch
If you're making this wrap for a grab-and-go lunch option, there are a few tips you can keep in mind. First, pack the wrap separately from any sauces or dressings to prevent it from getting soggy. You can also pack the wrap alongside some fresh fruit, veggies, or a small side salad for a well-rounded and satisfying meal.
To wrap things up, Enjoying a Nutritious and Delicious Meal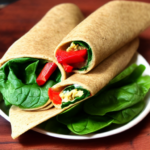 A healthy whole wheat wrap with hummus, spinach, and roasted red peppers is a perfect meal option for any time of day. Whether you're looking for a quick and easy lunch, a healthy snack, or a grab-and-go meal on a busy day, this wrap is sure to satisfy. With a balanced combination of whole grains, fresh veggies, and nutrient-dense ingredients, it's a meal that's both delicious and good for you. So why not try making this wrap today and enjoy a nutritious and filling meal that will leave you feeling satisfied and energized?