Whip Up Your Own Mouth-Watering Hot Pockets in No Time!
There's nothing quite like biting into a warm, gooey hot pocket that's oozing with melted cheese and your favorite fillings. But why settle for store-bought hot pockets when you can make your own from scratch? Not only is it more satisfying to create your own culinary masterpieces, but you also have the freedom to customize your hot pockets with any filling you desire. In this article, we'll show you how to whip up your own mouth-watering hot pockets in no time!
Step 1: Gather Your Ingredients and Tools
To make two servings of hot pockets, you'll need the following ingredients:
1 cup of all-purpose flour
1/2 teaspoon of salt
1/2 teaspoon of baking powder
1/4 cup of cold butter, cut into small pieces
1/4 cup of cold water
1 egg, beaten
Your choice of fillings (e.g. ham and cheese, pepperoni and mushroom, spinach and feta)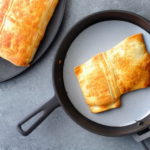 You'll also need a mixing bowl, a rolling pin, a baking sheet, and parchment paper.
Step 2: Create the Perfect Dough
In a mixing bowl, combine the flour, salt, and baking powder. Add the cold butter and use a pastry cutter or your fingers to blend the butter into the flour mixture until it resembles coarse crumbs. Add the cold water and mix until the dough comes together.
On a floured surface, knead the dough for a minute or two until it becomes smooth and elastic. Roll the dough into a rectangle that's about 1/4 inch thick.
Step 3: Add Your Favorite Fillings
Cut the dough into six equal rectangles. Add your favorite fillings to the center of each rectangle, leaving a border of dough around the edges. Fold the dough over the fillings and press the edges together with a fork to seal.
Step 4: Shape and Bake Your Hot Pockets
Preheat your oven to 375°F. Line a baking sheet with parchment paper. Place the hot pockets on the baking sheet and brush the tops with beaten egg.
Bake for 20-25 minutes, or until the hot pockets are golden brown and crispy.
Step 5: Enjoy Your Delicious Creations
Let the hot pockets cool for a few minutes before serving. Enjoy your homemade hot pockets with your favorite dipping sauce or on their own!
Tips and Tricks for Perfect Hot Pockets Every Time
Use cold butter and water to create a flaky, tender dough.
Don't overfill your hot pockets, or they may burst open during baking.
Brush the tops of your hot pockets with beaten egg to create a shiny, golden brown crust.
Experiment with different fillings to find your favorite combination.
Conclusion: Say Goodbye to Store-Bought Hot Pockets!
Making your own hot pockets is easier than you think, and the results are far superior to anything you can buy in the store. With a little bit of practice, you'll be whipping up your own mouth-watering hot pockets in no time. So why settle for mediocre frozen snacks when you can create your own delicious creations at home? Give it a try and see for yourself!