Bringing the Pub Home: A Guide to Classic Fare
Bringing the Pub Home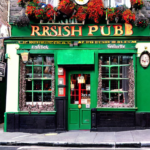 In the past few years, many people have had to cancel their plans for a night out at their local pub. However, you don't have to miss out on enjoying delicious pub fare with your loved ones this Saint Patrick's Day. By bringing the pub home, you can enjoy your favorite classic dishes while staying cozy in the comfort of your own home.
In this article, you will learn about the history of classic pub fare, essential ingredients for pub cooking, step-by-step recipes for classic pub fare, classic pub fare pairings with drinks, tips for hosting a pub-inspired night, and even modern twists on pub classics. So, grab your apron and pour yourself a pint, and let's get started!
History of Classic Irish Pub Fare
The origins of classic Irish pub fare can be traced back to England in the 19th century, where it was common for pubs to serve food to their patrons. These dishes were designed to be hearty, filling and easy to eat with your hands, making them perfect for a night out with friends. Some famous examples of classic pub food that originated in England include fish and chips, shepherd's pie, and bangers and mash.
Over time, pub fare has spread to other countries, with variations unique to each culture. Regardless of where you are, you can enjoy the warm and comforting goodness of classic pub fare.
Traditional Irish pub fare takes inspiration from the native ingredients and culinary traditions of Ireland, but with a focus on hearty and comforting dishes that are perfect for enjoying with a pint of Guinness or a dram of whiskey. Let me explain to you what you can expect to see on a traditional Irish pub menu as we get closer to Saint Patrick's Day.
One of the most iconic Irish dishes is, of course, the classic Irish stew. This dish is traditionally made with lamb or mutton, potatoes, onions, and carrots, all simmered together in a rich broth until the meat is tender and the vegetables are soft and flavorful. It is often served with a thick slice of soda bread to mop up the savory sauce.
Another popular dish is the Irish breakfast, which typically includes fried eggs, black and white pudding, rashers of bacon, sausages, grilled tomatoes, and toast. It's a hearty meal that will keep you going all day long.
Bangers and mash, a dish made with sausages and mashed potatoes, is another classic Irish pub staple. Sausages are typically made with pork, but may also contain other meats such as beef or lamb. The mashed potatoes are often mixed with butter and milk for a rich and creamy texture.
Lastly, fish and chips is also a popular dish in Ireland, especially in coastal towns where fresh fish is readily available. The fish is usually dipped in a light batter and then fried until crispy and golden brown. It is typically served with thick-cut fries (chips) and a side of tartar sauce.
Essential Ingredients for Pub Cooking
To make classic pub fare, there are a few essential ingredients you'll need to keep in your pantry. Basics like flour, butter, eggs and milk, as well as staple ingredients like potatoes, carrots, onions, and beef are key ingredients. Other flavor-boosting ingredients include Worcestershire sauce, tomato paste, and beer.
To create the perfect pub fare dish, be sure to invest in some quality cookware as well. Cast iron skillets, Dutch ovens and saucepans will help you create delicious and hearty dishes.
Here is an example of ingredients needed for four servings of shepherd's pie:
2 lbs ground beef
2 cups beef broth
1/2 cup finely chopped onions
1/2 cup finely chopped carrots
1/2 cup peas
2 cups mashed potatoes
1 cup shredded cheddar cheese
Salt and pepper to taste
Step-by-Step: Recipes for Classic Pub Fare
Here are some classic pub fare recipes that are easy to make at home:
Fish and Chips:
1 lb cod or haddock
2 cups flour
2 cups beer
2 tsp salt
1 tsp baking powder
Canola oil for frying
Heat the oil in a deep fryer or a deep saucepan until it reaches 375 degrees.
Mix together the flour, beer, salt, and baking powder in a separate bowl.
Dip the fish in the batter, making sure it is completely coated.
Gently place the fish in the hot oil and fry for 5-7 minutes, or until golden brown.
Serve with chips and tartar sauce.
Shepherd's Pie:
2 lbs ground beef
2 cups beef broth
1/2 cup finely chopped onions
1/2 cup finely chopped carrots
1/2 cup peas
2 cups mashed potatoes
1 cup shredded cheddar cheese
Salt and pepper to taste
Brown the beef in a skillet over medium-high heat, breaking it up into small pieces as it cooks.
Add the onions and carrots and cook for 5 minutes or until the vegetables start to soften.
Add the beef broth and simmer for 10 minutes.
Stir in the peas and season with salt and pepper.
Preheat your oven to 350°F. Transfer the beef mixture to a large oven-safe baking dish.
Spread the mashed potatoes over the beef mixture, making sure to completely cover it.
Sprinkle the cheddar cheese over the top of the mashed potatoes.
Bake for 25-30 minutes, or until the cheese is melted and the potatoes are lightly browned.
Classic Pub Fare Pairings with Drinks
No pub-inspired night is complete without the perfect drink pairing. Here are some classic pairings that are sure to impress your guests:
Fish and Chips – Beer
Shepherd's Pie – Red Wine or a Dark Ale
Bangers and Mash – Cider or a Light Ale
Remember, the key is to pair rich flavors together to create a harmonious balance!
Tips for Hosting a Pub-Inspired Night
For a true pub-inspired experience, be sure to decorate your home with pub memorabilia like old beer signs, posters and kegs. Serve your food on ceramic or wooden plates, and use Mason jars as glasses for a laid-back feel.
After dinner, put together a playlist of classic rock or folk music to keep the pub vibes going. For a fun twist, try hosting a trivia night with questions about your favorite pubs or classic cocktails.
Adding a Twist: Modernizing Pub Classics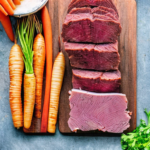 If you're feeling adventurous, why not try modernizing classic pub fare? Add some unexpected flavors like curry or sriracha to your Shepherd's Pie, or swap regular fries for sweet potato fries. The possibilities are endless!
These dishes are just a few examples of the comforting and flavorful traditional Irish pub fare that you can expect to find in America as we celebrate St. Patrick's Day.
The Joy of Home Cooking and Drinks
With these recipes and tips, you'll be able to create the perfect pub-inspired night in the comfort of your own home. Not only is it a fun way to spend time with friends and family, but it's also an opportunity to experiment with new flavors and techniques. So next time you're craving some comfort food, bring the pub home and enjoy the joy of home cooking and drinks. Cheers!